Don't you deserve some quilting R&R?
Choose your own "R's"
Rest - no chores, no cooking, no cleaning
Relaxation - take a dip in the indoor pool, soak in the Jacuzzi in your room, take a walk and admire the splendor of the mountains in all her seasons.
Rejuvenation - learn something new in a class.
Recreation - or just do your own thing, sew until the wee hours, be with others who understand your obsession with fabric and thread. The quilting room is available 24 hours a day. Who needs sleep when there is all this fabric to play with?
Retail Therapy - your very own personal mini quilt shop onsite in case you forget anything. Visit the shops in the quaint Village Center or take a road trip to visit quilt shops.
Where is it?
Snowy Owl Inn in Waterville Valley, NH
The Snowy Owl Inn is nestled in New Hampshire's White Mountain National Forest and is an easy stroll to the quaint shops in the Village Center. Their unique indoor octagonal, heated pool lets you swim inside the comfort of the pool area. After a busy day of activities you can retire to your tastefully decorated room, many with wet bars and Jacuzzis. All rooms feature cable TV, voicemail, data ports, air conditioning, hair dryers, small refrigerators and complimentary wi-fi throughout the Inn. Did you notice the quilts hanging on the wall of the lobby? You'll feel right at home!
When is it?
**************************************************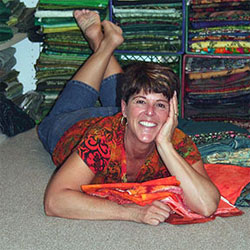 October 6-9, 2017 - Friday to Monday - Columbus Day Weekend
THIS RETREAT IS FULL - EMAIL OR CALL US TO HAVE YOUR NAME ADDED TO THE WAITING LIST!
Karen Kay Buckley will be showing us how to sew smooth curves, sharp points, perfect circles as well as create and applique perfect 1/4" strips. You will create the block above with the added border. You will receive the patterns for the entire quilt, Fiesta Mexico, that you can work on later if you choose. Ms. Buckley will also be entertaining us with an evening lecture entitled "From The Beginning: Album of a Quilter". Karen will take us on a journey through her growth as a quilter from her first quilt to her more recent work. She will share important things she has learned along the way. There will also be a digital tour of her home and studio. This is a hand applique project. You can learn more about Karen Kay Buckley on her website.
October 6-9, 2017 - Friday to Monday - Columbus Day Weekend
Quilt Camp - Retreat sound interesting but don't want to take the class? No problem! We have secured a second quilt room at the Inn just for you.
Your weekend package will include EVERYTHING...three nights at the Inn, eight meals, wine & cheese social, lecture with Karen Kay Buckley, your own 8' table for quilting, quilting room available 24/7, raffles, games, welcome swag bag...the works!
We'll also have several projects available that are quick to finish but look complicated. Perfect for the upcoming gift giving season! You can also work on your own projects...or both! We have 24 hours a day to sew!
Single occupancy - $569 per person
Double occupancy - $489 per person
Triple occupancy - $409 per person
Quad occupancy - $369 per person
A deposit of $150.00 secures your spot. The balance will be due by 8-6-17. When we fill up a waiting list will be started. There is no fee to be on the waiting list.
**************************************************
October 5-8, 2018 Columbus Day Weekend
Sandi Blackwell class and prices to be determined - we are taking names for the pre-registration list. Once prices and class info are worked out they will get first dibs. You can learn more about Sandi on her website, Stitched Buy.
**************************************************
What do I get for the money?
Our prices include EVERYTHING - a room at the Inn, meals, wine & cheese social, class with the featured instructor, quilting room available 24 hours a day, your own 8' table for quilting, raffles, games, prizes, welcome package...the works!
Friday to Monday retreats include 3 nights at the Inn and eight meals
Friday to Sunday retreats include 2 nights at the Inn and five meals
Sounds great, I would love to go...what next?
Register early. Space is limited to 24 quilters (15 minimum). A deposit of $150.00 is required to hold your spot. The remaining balance is due two months before the retreat. Just give us a phone call or email to get started.
(603) 544-2161
headmoose "at" purplemoosedesigns "dot" com (replace with appropriate symbols, those darn hackers make everything so complicated...)
Cancellation Policy
Purple Moose Designs reserves the right to cancel three weeks prior if there are not a minimum of 15 quilters registered. Full refunds would be issued. There will be no refunds if R&R is cancelled due to circumstances beyond our control such as the weather or the moon crashing into the earth...stuff like that. If you should need to cancel your spot for any reason after the last deadline, your deposit will be forfeited unless your spot can be filled.