Want Some Moose Droppings?
Our free monthly newsletter has what's new, sale items and the occasional recipe all delivered with our special brand of snark!
We are offering 40% off all in-stock fabrics. Simply use the coupon code FABSHOP during checkout and money will magically disappear from your total!
(as long as you bought fabric!)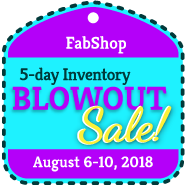 Life has thrown a curve ball and we have an unexpected trip. We will be out of the office until 8/10. You can still place orders, shipping will be when we return on 8/10. We will do our best to answer emails during this time, it may just take a smidge longer than usual.