Baby Ride pattern


Cityscape pattern


Happy Jacks pattern


Josephine's Knot pattern


Little Princess pattern


Moose in Winter - 1/4yd


Perfect Ovals


Quality notions at affordable prices and quilting patterns for every skill level. Superior customer service and some of the speediest shipping around - that's how we set ourselves apart from all the other on-line quilting sites. Besides, where else can you get purple hugs and moose kisses just for the asking?
What's New:
Welcome!
We now carry lots of fabric! Check it out here. We have several fabrics up and are adding more every day (it's very labor intensive to add them by the scores...) We even have a special catagory just for moose fabric.
We have just listed some great kits. You can find them here, in the Kits Section. We also have lots of new patterns (in all the different categories!) and you can start here, just choose a category to start.
NOTE: All orders place from 10/10 to 10/13 will be mailed on 10/14 as we will be hosting our Quilter's R&R retreat!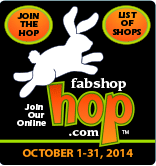 We're having a little R&R - want to join us? Check out the details of our retreat this fall. We would LOVE to have you! Look here. Above is the class project if you choose to participate or you can work on your own projects. Either way it's better than chores at home...
Enjoy your visit with us!
bunny hint...our little furry critter is rolling around in lots of fabric...
Sign up for our newsletter. Enter your name and e-mail address in the boxes below to receive our monthly newsletter Moose Droppings. Each month we have tips, specials, recipes and much more.
All products made in the U.S.A. will proudly show this flag!
Follow us on Google+, YouTube, Facebook