Blue Waves - 1/4yd


Feeling Crabby


Grow Up Tall Giraffe


Quick Zip Cases


The Dress Kit Red


Quality notions at affordable prices and quilting patterns for every skill level. Superior customer service and some of the speediest shipping around - that's how we set ourselves apart from all the other on-line quilting sites. Besides, where else can you get purple hugs and moose kisses just for the asking?
What's New:
Welcome!
If you plan on going to Maine Quilts in Augusta ME or AQS-Syracuse in Syracuse NY please be sure and look us up. Our booth will be chock full of new patterns, fabrics, kits, gadgets...all kinds of cool stuff. We have links on our schedule for dates, addresses etc.
NOTE: Since we will be away at shows, all orders placed from July 22 to August 3rd will be filled immediately upon our return on August 4th. We're gonna put some serious miles on Mabel the Moose Mobile!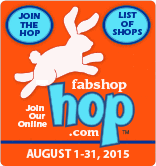 We're having a little R&R - registration has opened for our October 2016 retreat with Sue Rasmussen. she will be teaching us how to do curved flying geese. You can get more info here.
Enjoy your visit with us!
Sign up for our newsletter. Enter your name and e-mail address in the boxes below to receive our newsletter Moose Droppings. You get first crack at our Block Of The Week as well as tips, specials, recipes and much more.
All products made in the U.S.A. will proudly show this flag!
Follow us on Google+, YouTube, Facebook